From the JFCS President & CEO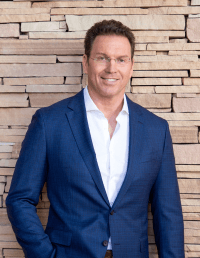 For more than 85 years, JFCS has been on the frontlines when our community is facing a crisis, and most recently, in ways we could not have imagined. The 40,000 individuals we serve every year are experiencing an urgent demand for our services. Because of your support to the JFCS COVID-19 Emergency Fund, our staff is able to assist, help and heal all who come to JFCS. Despite these difficult circumstances, I want to share some good news.
Earlier this month, JFCS' three integrated healthcare centers and outpatient behavioral health clinic were certified by HealthyVerify—the country's only medically based, scientific and professional full-service certification company that helps organizations minimize the risk of transmitting infectious disease. JFCS is Arizona's first and only behavioral health organization to be certified by HealthyVerify. Taking the proper steps to confirm that our organization is doing everything we can to protect our employees and clients is an important step in doing our part to stop the spread of COVID-19.
In addition, due to the pandemic, we accelerated our strategic initiative to implement Telehealth services across all programs at JFCS. In mid-March, JFCS quickly pivoted to deliver almost all of our critical services remotely. We have already seen a return on investment with increased patient satisfaction and reduction in missed appointments. Full implementation across the agency has the potential to reach and treat more individuals and families who need critical behavioral health, healthcare and social services to lead productive, independent lives.
We are here for you and hope you are staying safe and healthy. If you or someone you know needs help, please call us at (602) 256-0528, visit our website, or email us at info@jfcsaz.org.
With gratitude,
Lorrie Henderson, Ph.D., MBA, LCSW
President & CEO
---
Impact Spotlight
Your gifts heal lives! Hear from Mario Lippy, Director of JFCS Michael R. Zent Healthcare Center and Linda Scott, Vice President of Child and Family Solutions about the impact of your generosity.

---
Program Spotlight
Your support of the Just 3 Things Food Pantry has helped many struggling families and foster teens. This program ensures that no client entering our doors is faced with hunger while in our care. Below are a few photos of just some of the donations we received!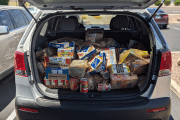 ---
Program Spotlight
We just completed our 2020 Annual Backpack Campaign, an effort that raised enough funds to provide 1800 children with fully supplied backpacks for the new school year.
Shown below: A snapshot of the backpack and supplies each student was given (right) and a volunteer, Ellen Kirschenbaum, who helped make deliveries to the clinic sites (left).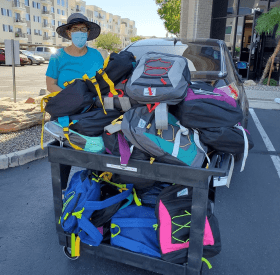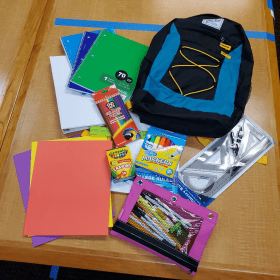 ---
Thank you for joining us in healing lives, whatever it takes.