A Survivor Speaks Out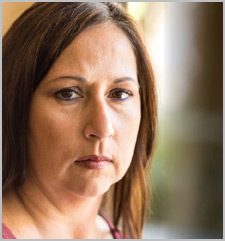 1 in 4 women are a victim of domestic abuse
My name is Francine. I am a fortunate survivor of domestic violence. The reason I say "fortunate" is because I feel there are three types of domestic violence victims.

First, there is the woman who stays in the abusive environment. Second, the woman who is no longer here with us because she was killed by her abuser. Third, women like me, who are fortunate enough to have escaped the abusive relationship. It was an early Saturday morning when I received the last bruises from my now ex-husband. I was determined to seek help. It all started at the Scottsdale Police Department.
I was introduced to Christine, Senior Crime Advocate for the City of Scottsdale, who encouraged me to call Jewish Family & Children's Service. I did.

The domestic violence advocate at their Shelter Without Walls program helped me find a place to live, food, clothing and even gave me bus passes since I didn't have transportation. I was encouraged to join a weekly therapy group program, as well as individual therapy sessions. They also put me in touch with a legal advisor who prepared the divorce paperwork and guided me through every single step until I was declared legally free.
I feel so grateful for all the support the staff at Shelter Without Walls gave me. I couldn't have done anything without their help. They were there for me to listen to my insecurities, to reassure me that I am intelligent and that I can do it. It was a comforting feeling knowing that someone was just a phone call away.
Shelter Without Walls staff taught me that I have the right to say yes or no, when needed, and not feel guilty about it. I learned to accept compliments, to know I am beautiful, to have confidence, to believe in myself, to feel I can accomplish anything, to realize it was not my fault. Shelter Without Walls taught me to take risks in life, to taste success. Most of all, Shelter Without Walls taught me to love myself. I also learned to smile.
I consider myself a different woman now. I was able to work hard, save money, keep focus to buy my first home. I continue to go to school. With discipline, I know I will complete my Social Services degree. Although it has been some time since I left the violent atmosphere, and come so far with accomplishments, I still struggle with fear and insecurities. I know in my heart that these emotions will eventually subside with time.
I feel I am a positive living proof of what JFCS and Shelter Without Walls can do. I am eternally grateful for this charitable, giving organization that helped save my life.
*Republished with permission from Arizona Jewish Life, February 2016.